Is This The Ultimate Plant Protein Shake?
This creamy and delicious shake contains 3 superior plant proteins and delivers all 9 essential amino acids–with NO artificial additives or lectins!
SPECIAL OFFER


ORDER TODAY & GET UP TO 45% OFF
Dr. Gundry Set Out To Create A
Healthy & Delicious Way to Get
the Benefits of Plant Protein!
A Healthy & Delicious Way to Get The Benefits of Complete Protein, Without the Downsides!†
Complete Sources of Protein

Free of Gut-Harming Lectins

Free of Unhealthy Fats & Cholesterol

Affordable

Free of Hormones, Chemicals & Antibiotics

Free of Added Sugar & Unhealthy Additives

Great Tasting
That's Where ProPlant Comes In:
Your Healthier, Plant-Based Protein Solution!†
After much research, we identified the specific plants that met our strict criteria and used them to create ProPlant. Made with 3 top plant based proteins, ProPlant provides the high quality protein your body needs to thrive. It's available in irresistibly delicious chocolate and vanilla flavors, and packs a whopping 10g of protein per serving!
Get the Incredible Benefits of
ProPlant—While Still Eating Meat!†
Completely cutting out meat is NOT necessary!
Make no mistake: ProPlant is not meant to replace all the animal protein in your diet! In a well-balanced diet there's room to enjoy these foods in moderation. Even Dr. Gundry enjoys the occasional steak!

By swapping just four servings of meat each week with ProPlant Complete Shake, you can start supporting your overall health! Dr. Steven Gundry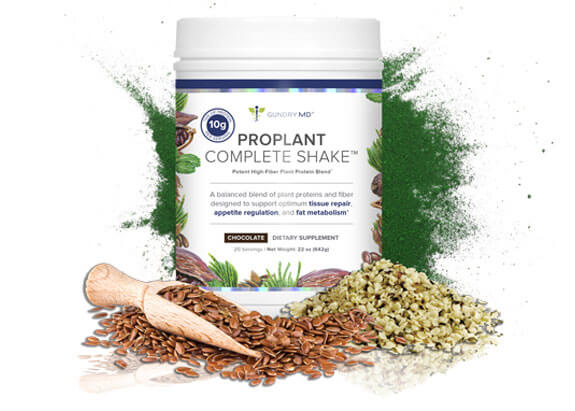 The Plant Protein in ProPlant Helps With:*

Managing weight27†
Promoting heart & brain health28†
Maintaining strong bones & muscles29†
Reducing unhealthy cravings30†
Boosting mood & energy levels31†
Supporting smoother digestion32†
The 3 Key Plant Proteins in ProPlant
They can help fill you up & keep you feeling strong,
without weighing you down.†
The great news is that ProPlant is designed to help keep you full—without the downsides of meat, including feeling heavy and tired! ProPlant contains 2 complete plant proteins—hemp seed and spirulina. With 9 essential amino acids, just like meat, these two power plants can help satisfy and fill you up!33 The third protein is flaxseed, and while it's not a complete protein, I consider it one of the healthiest foods on the planet.34†
Hemp Seed

A complete protein with all nine essential amino acids. Full of Omega 3's, hemp seed helps support heart, brain and vision health. Best of all, it can make you feel satiated like red meat, without the fat and hormones, for easier digestion and healthy weight management.35†*

Spirulina

This exotic blue-green algae is another complete protein. It's packed with vitamins, nutrients, antioxidants and minerals that can help your body stay strong and healthy, without packing on pounds!36 37†*

Flaxseed

Flaxseed is an incomplete protein, but it's chock full of healthy dietary fiber, Omega-3 essential fatty acids and potent antioxidants that help support heart health, and so much more.38 39†*
*All individuals are unique; your results can and will vary.
Finally... A Great-Tasting & Healthy
Shake That Keeps You Full & Satisfied
Unbeatable chocolate and vanilla taste with
loads of potential health benefits!†
10g of COMPLETE protein per serving for a satisfying & healthy meal.
High quality protein - NO chemicals or antibiotics.
Rich in antioxidants, heart healthy Omega 3s & dietary fiber.
ProPlant takes just minutes to prepare—a convenient go-to solution.
Delicious, satisfies your sweet tooth & 100% guilt FREE!

Unlike other protein powders on the market we ensure you get the protein punch your body needs - in a delicious flavor without unhealthy sugars, additives, chemicals, and even lectins, which can be destructive to your digestive tract. Finally there's a protein supplement that hits all the checkmarks it needs to seal up my stamp of approval that can make a real difference in the way you look and feel.†
People Love The Great Taste & Many
Benefits of ProPlant!
Delicious! I have one every day [...]. The chocolate flavor satisfies sweet craving and leaves you feeling full for hours without eating a lot of carbs and sugar. I am on my 4th jar and plan to keep ordering.*
Jennifer Pauch | Verified Reviewer
April 19, 2020
*Every individual is unique. As such, your results can and will vary.
I've been taking this for almost one month now. I like the taste [...]! It's easy and does not make me tired or bloated after taking it like eating eggs for breakfast...*
Michiko Kato | Verified Reviewer
February 29, 2020
*Every individual is unique. As such, your results can and will vary.
Best Shake Ever! I was skeptical about trying yet another protein shake, but trust Dr. Gundry so much, that I ordered the ProPlant Complete Shake. I used his recipe of coconut milk, ProPlant powder, olive oil, vanilla extract, and ice cubes. The best chocolate protein shake I have ever had! [...]It has stopped my mid-morning cravings and I noticed that I am consuming less food for lunch. I have lost weight, with the daily inclusion of ProPlant in my diet. Thank you for another great product Dr. Gundry!*
Brianna McAvoy | Verified Reviewer
August 10, 2019
*Every individual is unique. As such, your results can and will vary.
WE LOVE DR. GUNDRY'S SHAKES!! When I first watched the Dr. Gundry video, I was blown away with the truths revealed there. My wife has struggled forever with weight loss and we have tried everything… We had been ketogenic for some time and that had been the best we had found BUT the results of incorporating Dr. Gundry's plan have been phenomenal. We LOVE the shakes [...]. We are extremely optimistic that, at long last, we have found what is truly working for us. This is our life-long eating program and we are so thankful that I found Dr. Gundry's video, watched the whole thing and decided to act!! Thank you thank you, thank you!!*
Dr. Ronald C Harshman | Verified Reviewer
April 20, 2019
*Every individual is unique. As such, your results can and will vary.
INDULGE WITHOUT THE GUILT #gundrymd #gundryproplantcompleteshake
Great Ways to Enjoy ProPlant
Classic Protein Shake

1 scoop (32.1g) of ProPlant powder
8-12 fl.oz of water or unsweetened coconut milk
Mix well and enjoy!

Iced Choco-Latte

1 scoop of chocolate flavored ProPlant powder
8-12 fl.oz of unsweetened coconut milk
2 shots of espresso
Ice
Mix until smooth (use shaker bottle or blender)

Chocolate/Vanilla Coconut Milkshake

1 scoop of ProPlant powder (your choice of flavor)
8-12 fl.oz of unsweetened coconut milk
3 hearty scoops of coconut-milk vanilla ice cream

Iced Vanilla Latte

1 scoop of vanilla flavored ProPlant powder
8-12 fl.oz of unsweetened coconut milk
2 shots of espresso (optional)
1-2 teaspoons pure vanilla extract
Ice
Mix until smooth (use shaker bottle or blender)

Vanilla/Choco-Berry Polyphenol Rich Smoothie

1 scoop of ProPlant (either chocolate or vanilla)
16 oz of unsweetened coconut milk
1 scoop of Vital Reds (Dr. Gundry's berry polyphenol-rich powder)
1 spoonful of Gundry MD Polyphenol RIch Olive Oil,
Raspberry-Chocolate Stevia Drops and Ice
ProTip: You can even use ProPlant as a baking powder for muffins, brownies and more. The possibilities are literally endless. Use your imagination and enjoy!
About Dr. Gundry
Dr. Steven Gundry, MD is one of the world's most celebrated pediatric heart surgeons, and the author of the best-selling book "Dr. Gundry's Diet Evolution." He is the director of the International Heart & Lung Institute in Palm Springs, CA, and the founder/director of the Center for Restorative Medicine in Palm Springs and Santa Barbara.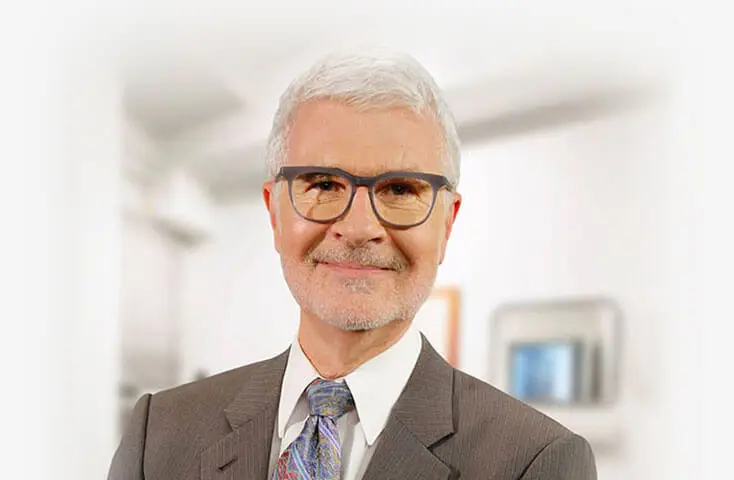 FREQUENTLY ASKED QUESTIONS
What Are the Main Ingredients in Gundry MD™ ProPlant Complete Shake?

These are the main ingredients in ProPlant Complete Shake:

Cocoa powder
Natural flavors
Salt
Flaxseed
Hemp Protein
Spirulina
Stevia Blend: Rebaudioside A, Steviol glycosides

What Is the Amino Acid Profile of ProPlant Complete Shake?

How Many Jars Should I Order?

The most popular order for new customers is the 3-jar package. However, longtime customers usually opt for the 6-jar option, which gives you even greater opportunities to save.

How Do I Use Gundry MD™ ProPlant Complete Shake?

For optimum effectiveness, I recommend taking Gundry MD™ ProPlant Complete Shake once per day. Simply mix one scoop into any beverage of your choice — water, unsweetened coconut milk, or smoothie — and you're good to go!

When Can I Expect Results?*†

Many users report feeling an improvement in digestion, energy, muscle strength, and overall health within just a few days of taking Gundry MD™ ProPlant Complete Shake. However, for many users, the most dramatic results were first noticed over the course of 2-3 weeks. Please use as directed.

*Every individual is unique. As such, your results can and will vary.

What If ProPlant Complete Shake Doesn't Work For Me? Is There A Guarantee?

I'm confident Gundry MD™ ProPlant Complete Shake will offer you powerful support for your entire body. But I also understand that no two people's systems work the same way, so a small number of people might find ProPlant Complete Shake does not give them the benefits they need.

That's why each jar of ProPlant Complete Shake comes with my personal 90-day guarantee. If, for any reason, this formula does not give you improved energy, digestion, and whole body wellness, just return what you haven't used within that time for a full, no-questions-asked refund of your purchase price.
Studies
[1] What is a complete protein? [Link]
[2] Protein [Link]
[3] Preserve your muscle mass [Link]
[4] Effect of protein intake on bone and muscle mass in the elderly [Link]
[5] Amino Acid and Protein Requirements: Cognitive Performance, Stress, and Brain Function [Link]
[6] The Connection Between Protein and Your Mental Health [Link]
[7] Protein-Heavy Meals Make You Feel Fuller, Sooner [Link]
[8] The effects of high protein diets on thermogenesis, satiety and weight loss: a critical review [Link]
[9] Caveman Diet Secret: Less Red Meat, More Plants [Link]
[10] 2019 Meat Production and Consumption [Link]
[11] The Problems of Industrial Meat: A Primer [Link]
[12] Eating red meat daily triples heart disease-related chemical [Link]
[13] Global, regional, and national comparative risk assessment of 79 behavioural, environmental and occupational, and metabolic risks or clusters of risks, 1990–2015: a systematic analysis for the Global Burden of Disease Study 2015 [Link]
[14] Food-Animal Production Practices and Drug Use [Link]
[15] Bovine Somatotropin (bST) [Link]
[16] Bovine Somatotropin (bST) [Link]
[17] Hormones in Food as a Potential Risk for Human Reproductive and Health Disorders [Link]
[18] What is the true cost of eating meat? [Link]
[19] Health Leaders Must Focus on the Threats From Factory Farms [Link]
[20] U.S. Broiler Performance [Link]
[21] How does organic handle antibiotics? [Link]
[22] Mercury Levels in Commercial Fish and Shellfish (1990-2012) [Link]
[23] Lectins [Link]
[24] Do I Need to Worry About Eating 'Complete' Proteins? [Link]
[25] Do dietary lectins cause disease? [Link]
[26] Soy is unique in that it contains a high concentration of isoflavones, a type of plant estrogen (phytoestrogen) that is similar in function to human estrogen but with much weaker effects. Soy isoflavones can bind to estrogen receptors in the body and cause either weak estrogenic or anti-estrogenic activity. [Link]
[27] A plant-based diet in overweight individuals in a 16-week randomized clinical trial: metabolic benefits of plant protein [Link]
[28] A plant-based diet in overweight individuals in a 16-week randomized clinical trial: metabolic benefits of plant protein [Link]
[29] Does Plant Protein Build Muscle as Well as Meat? [Link]
[30] Swap plant protein for meat, feel full and eat less later, study suggests [Link]
[31] Research that looked at the impact of diet on emotional well-being and productivity at 10 corporate sites of a major U.S. insurance company found that a plant-based dietary intervention led to significantly reduced feelings of depression, anxiety, and fatigue. [Link]
[32] The Effects of Vegetarian and Vegan Diets on Gut Microbiota [Link]
[33] Hemp Seed [Link]
[34] Top 10 Health Benefits of Flax Seeds [Link]
[35] Hemp Protein Powder: The Best Plant-Based Protein? [Link]
[36] Spirulina in Clinical Practice: Evidence-Based Human Applications [Link]
[37] What are the benefits of spirulina? [Link]
[38] The Benefits of Flaxseed [Link]
[39] Possible health benefits [Link]